Autosave and Better Performance: MockupScreens 4.91
May 27, 2015
MockupScreens now works 3-5 times faster than before! We have worked hard to improve performance (which suffered after introducing free text formatting in 4.90) and fix several annoying bugs. You can download new MockupScreens 4.91 at the download page on the main website.
What is new in version 4.91 is the Autosave feature. In the case of a crash, MockupScreens automatically recovers the last file you have worked on, including all the updates prior to the crash.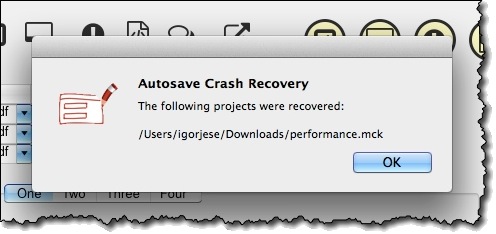 You can download MockupScreens 4.91 here. Below is the complete list of changes and improvements.
PS. Existing users: download the trial and unlock it with your existing license key.
Changes in MockupScreens 4.91
New:
Autosave (recovers project automatically after crash)
Improvements:
3-5 times better performance
When moving or resizing, complete widgets are rendered only after the action
Lasso select disregards locked widgets or widgets derived from masters
Fixes:
Comment numbering was broken in some situations
Selection problems fixed
Corrected Frame widget top padding for Windows 7 & 8 skin
Widget's spatial index wasn't updated correctly after moving via keyboard