The Book: Mockups 101 Is Live !
October 20, 2015
15 months ago I've started writing the "mockups book". Many people jumped in with feedback and ideas and, in a way, the book took on a life of its own.
Consequently, finishing the book was much more work than I imagined, but I'm very happy with the result!
You can: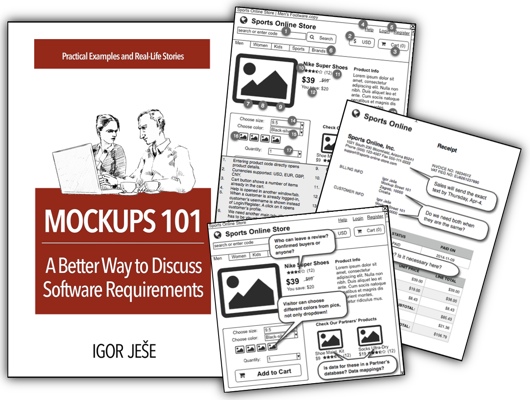 The Book
My book "Mockups 101: A Better Way to Discuss Software Requirements" aims to help the reader to find out what your client really wants.
Many commonly encountered problems have tried and trusted remedies, and the book presents these solutions through practical examples and real-life stories.
Mockups 101: A Better Way to Discuss Software Requirements
Excerpt from Amazon description:
"Great simple straightforward approach to using mockups."
Mockups visually represent the system before it's been built. They are easy to do, but what makes the biggest difference is how you actually use those mockups.
This book will help you to:
Get early feedback from clients.
Use mockups to improve communication with customers and developers.
Avoid (or solve) common problems encountered on the wide variety of different situations.
"A short book that distills the essence of why and when mockups should be used."
More details on Mockups 101 book's website or on the books's page at Amazon.
What's In the Book
Here is the full table of contents:
MOCKUPS 101: A BETTER WAY TO DISCUSS SOFTWARE REQUIREMENTS
About This Book
Help Your Customers Understand What They Are Going to Get
PART I: CREATING AND USING MOCKUPS
1. The Basic Mockup Routine
2. Make It Obvious That Mockups Are Not the Real Thing
3. Provoking the Right Feedback
4. Discussing the Mockups Effectively
5. Mocking-Up the Outputs
PART II: PUTTING IT ALL TOGETHER
6. Mockups As a Spec
7. Real World Case Studies
8. A Cautionary Tale
9. Choosing the Right Mockup Tool
Last Words
About the Author
List of Figures
Take-Aways by Chapter
Enjoy,
Igor