MockupScreens 4.86: Comment Formatting, DOCX, Printing in 300 DPI
October 7, 2014
When annotating your screens, you can communicate better by e.g. underlining a requirement or making an important phrase bold.  MockupScreens 4.86 brings comment formatting, so you can do that now.
Notable improvements are also: Exporting to DOCX format, and printing images in 300 dpi.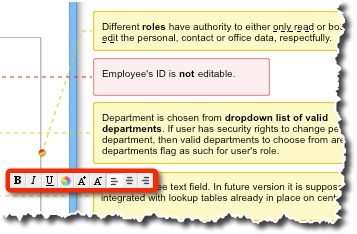 You can download MockupScreens 4.86 from the main MockupScreens website.
New in MockupScreens 4.86:
Export to DOCX format
Text formatting in comments.
Improvements:
Better image quality (300 dpi) when printing
Faster program startup
Scrolling in editor is more smooth than before

Option to reopen last project on startup or not
Fixed:
Irregular tab widget background color with MacOS and Safari skin
Saving a snapshot to file didn't give an overwrite confirmation

Image in grouped widgets was sometimes lost when pasting, saving and otherwise 

serialising

 the group